The retailers we visited in New York gave us gift bags and in my Evans bag was this cute rose-print scarf. I usually only wear scarfs in cold weather so I was a little unsure how to wear it. Then I watched an episode of Sex and the City where Carrie was wearing a scarf as a top—I gave it a try!
I just folded the scarf into a triangle and tied it behind my back. You could wear a bandeau top under the scarf if you want more coverage. One tip: fold the scarf over the back of the bra so as to prevent the bra from peeking out. I added a denim jacket once it got a little cooler in the evening.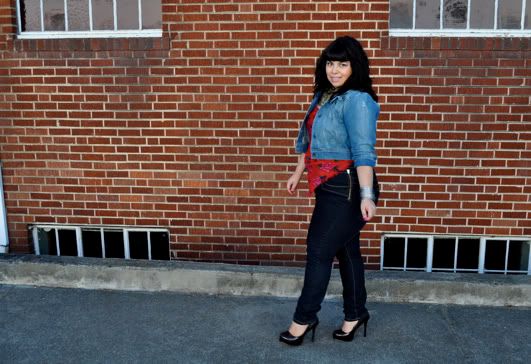 I know many of us are still reluctant to go out showing our arms or back but trust me when I say that you are most likely the only person who is so focused on them. I wasn't feeling so well in the weeks before the YFF conference but being around women who were stylish, body positive, and gorgeous completely re-energized me. When I wore the strapless top to the NY rooftop party, that was the first time in a long time that I'd worn something strapless and I felt fabulous!
So my suggestions to anyone who is unsure about baring a little more skin: surround yourself with body-positive friends, go do something fun, wear your skin-baring clothing and tell yourself you are beautiful, because you are!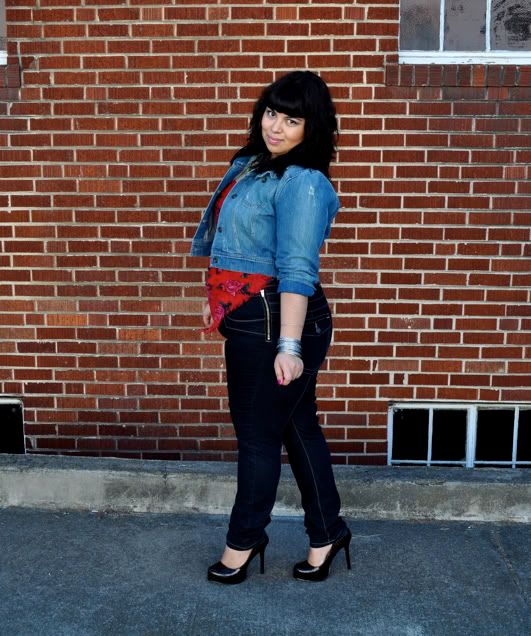 Lately I've been more interested in jewelry. I found this green necklace and fell in love. For those of you who may not be too good at accessorizing (like me), I def suggest going for a statement necklaces. They can really bring an outfit together and require little thought. I love ones with big stones, sparkle, or several chains. Will be highlighting some of my favorite necklaces here soon!
Scarf as top: Evans, Jacket: ASOS, Jeans: City Chic, Shoes: Urban Original, Necklace: Anthropologie