With this outfit I wanted to debut the new look to the blog. I have renamed the site jaymiranda.com because I think it's a better fit for different topics I want to write about. I will always love Fatshionable because the fatshion banner is one that many of us learned about together and why many of us started blogging.
A question I've been contemplating is how much of myself to share online. I'm interested in blogging not just about fashion but on my thoughts on fashion and how fashion intersects other aspects of my life. Basically, I want to give you a glimpse into my style imagination.
Lately I've become obsessed with perfume. I associate scents with memories, places, and moods, so wearing a scent is often an evocative experience. This line from Perfumes: The Guide captures it:
"It would be wonderful to have an orchestra follow us around all day and play a movie soundtrack to match our mood. Wearing perfume is a little bit like that. It scores the day. It makes breathing, ordinarily a purely functional thing, bring a little bit of beauty into you with each breath."
My newest love is Ormonde Jayne's Ta'if. It's made with damask roses from Arabia. It start's off with bright pink pepper, saffron, and dates, and then melts into the beautiful rose. I absolutely love it. It's mysterious, seductive, but retains the effervescence of the top notes.
This outfit was inspired by the beauty of this scent and damask roses. Check out my super cute top with printed perfume bottles. I'm also wearing a lipgloss by lovely fellow blogger Afrobella's collaboration with MAC—a gorgeous purple that I'm loving for Fall.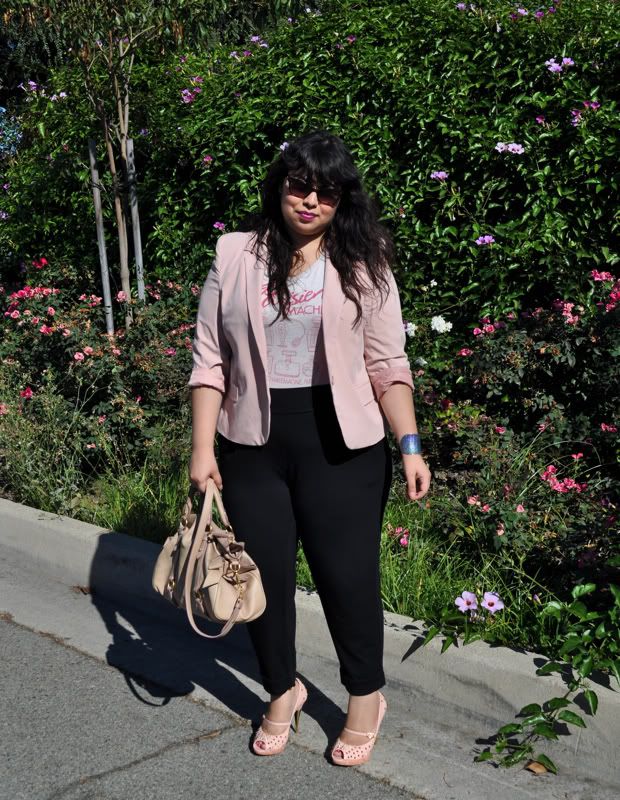 Printed tee: Jcrew
Blazer: Asos
Pants: Nordstrom Sejour
Earrings: Vintage from Palm Springs
Cuff: Unearthed etsy shop
Shoes: Pour la Victoire
Bag: Miu Miu
Lipgloss: MAC "All of my purple life"
Let me know your thoughts on perfume, this outfit, the new look of the blog, or anything else! xx