Every new mom needs one. I was three months pregnant when my diaper bag search began. Now, I love handbags; give me buttery suede, vachetta leather, metal hardware, secret pockets, and a flirty drop length. With in mind, you can understand why my pregnancy glow was diminished when I found that the diaper bag market is comprised of poofy, pastel, nylon behemoths. I began to wonder: was my diaper bag supposed to replace my purse? Because I did not know how I felt about that. I started to think that by replacing my bag, I was surrendering a part of my identity. While babies might find Winnie the Pooh totally charming, I don't want a little pants-less bear all over my everyday bag.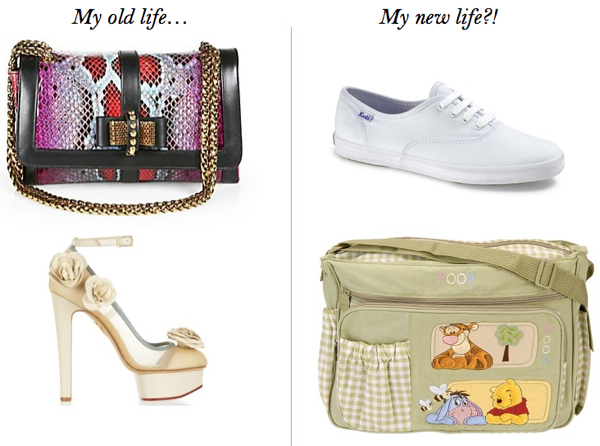 "Well, that's it," I said to my husband, "there goes my sexy womanhood… I'm a mom now… with a horrible bag. Are these mom jeans now?"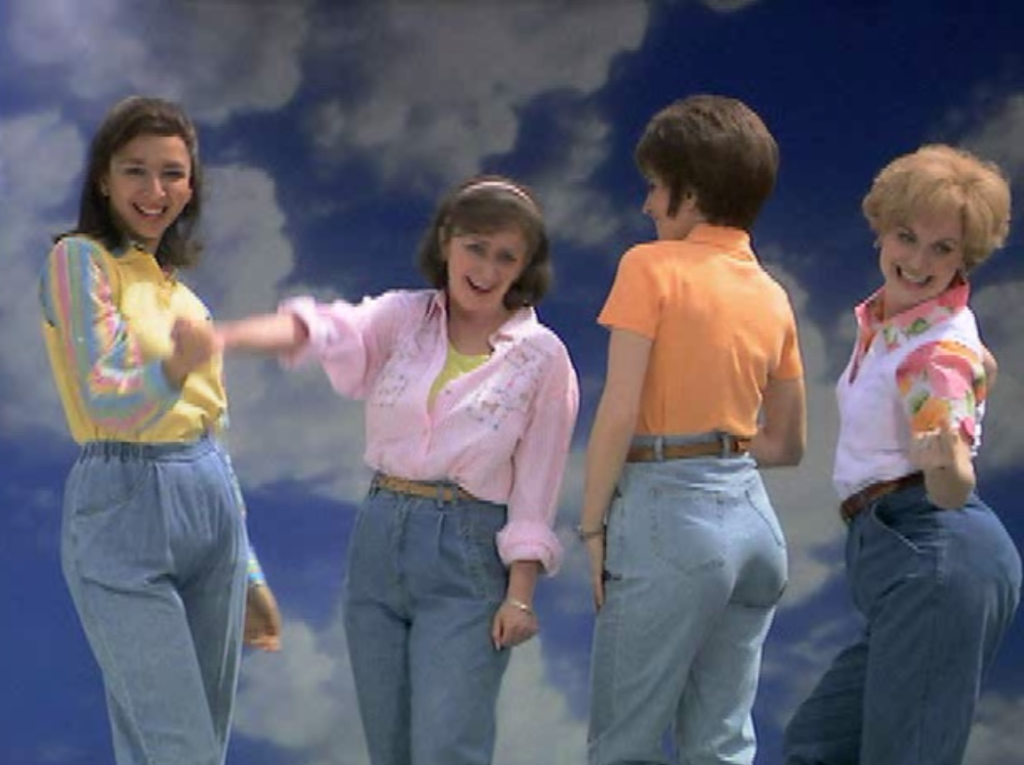 "Aren't all your jeans mom jeans now?" he asked with a wry smile.
Why was this even a big deal, right? It is just a bag. Right? I held off on the diaper bag decision for a couple months and I would go through a few more stages of soon-to-be-mommy disquietude. I went on three distinct diaper bag adventures and failed each time.
At first I thought that whenever I went out, I would just bring two bags. One for baby and one for me. I mean, I have seen businesswomen carry two bags to work. I tried the double-bag method to baby's first checkup. A canvas diaper bag was on my shoulder. With my free arm I was carrying the baby inside her car seat through the lobby and toward an elevator. My lilac quilted leather Kate Spade dangled on a skinny chain and as I drew closer to the elevator I had to arch my shoulder more and more so that my bag wouldn't slip. Not an elegant arrangement. I vowed, never again.
Next, I decided that I would just have to find a really, really nice baby bag. Designer diaper bags are never referred to as "diaper bags" instead, they are called "baby bags." You can find baby bags by LV, Prada, Burberry, and Gucci. And in the slightly-less-expensive-but-still-expensive genre, you can find baby bags by Kate Spade or Marc by Marc Jacobs. Some of the latter styles were so pretty they could pass for purses. The others seemed to me so extravagant as to be silly—spend over $1000 for something that will some day hold soiled baby onesies? Who am I, Kanye West? When I handled some in real life, I was disappointed by the lack of functionality. Even I knew that the bag had to have substance and style.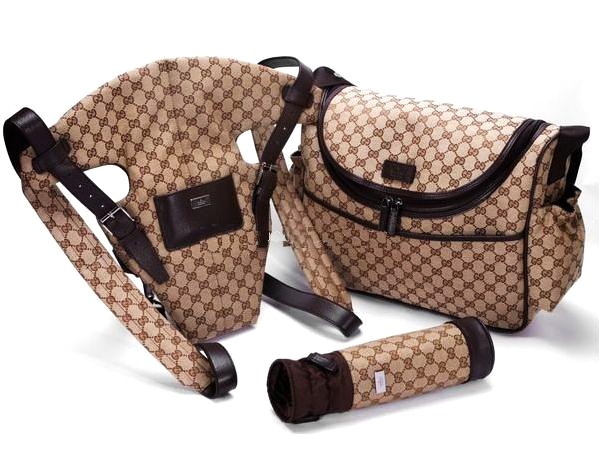 What, your baby doesn't have a Gucci bottle warmer? You terrible mother.
These were the Scylla and Charybdis of diaper bags. On my third attempt I went out with the small and plain canvas diaper bag we received off on our registry. Save for a debit card and my phone, I left the rest of my stuff at home. Inevitably, I longed for the contents of my purse: my lip balm, a tin of mints, a book, hair tie, pen. Ultra-minimalist diaper bag packing was not for me. There had to be a better option out there. Just as in matters of love, the right one will find you when you stop looking. Let me tell you, the perfect baby bag found me.
It's the Ju-Ju-Be baby bag! I can tell that a mom designed it. Allow me to gush about all its smart features. First, it has a coating on the exterior so it's simple to wipe clean and no worries if I am ever caught in a summer shower. I am used to covering my purse with my coat when it rains, so this is a big deal for me. This baby bag also has a little opening on one corner that acts as a sort of trapped door to empty out all the little bits and crumbs that end up on the bottom of our bags. And if you have one of those truly intense mommy-baby outings, the whole thing is machine washable.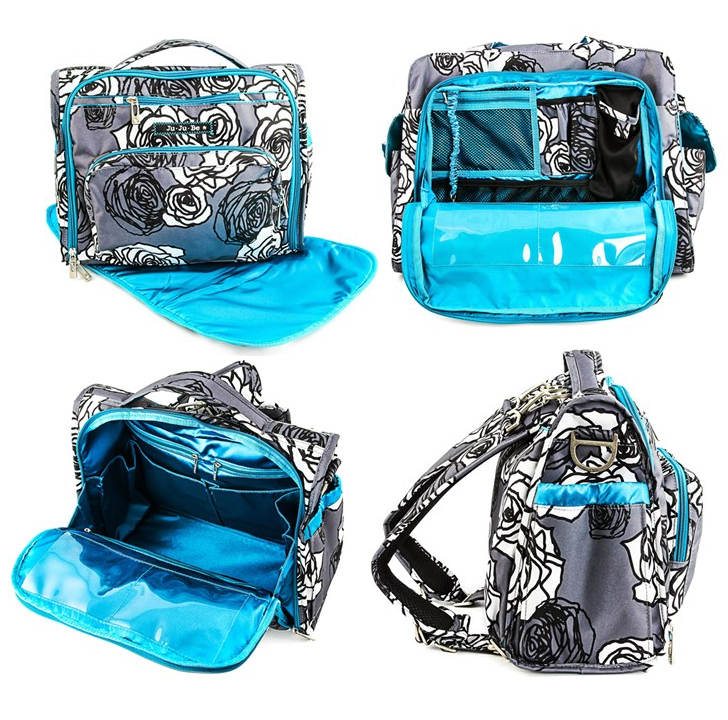 So… many… pockets.
I'm all about substance over style now—at least in so far as diaper bags are concerned. That means cleanliness and being more solutions-oriented. I have learned you should look for a diaper bag that has a light color lining, because when the lining is dark it makes it hard to find things inside. When my baby is crying and needs a change, bottle, or snack, those extra seconds matter and saves me from a baby that goes from fussy to meltdown-mode. There are no loud Velcro fasteners on this bag (shhh, baby is sleeping); the bag has zippers and magnetic closures.
The diaper bag did not replace my purse, but I have a place in our diaper bag to keep a few of my essentials and I save my nice bags for going out sans baby. Inside the "mommy pocket" there is a place for my wallet, key, glasses, hand sanitizer, pen, book, camera—all in its own place so I never have to dig for my lipstick amongst stray diapers. The Ju-Ju-Be brand has cute add-ons too like a "pacifier pod" that clips onto the bag. Our baby doesn't use a pacifier but I almost want to get it just so I can stash something in the pod. But what? Contenders: shot glass, ibuprofen, birth control, emergency cash. Now, some of the are a little loud but a few I really love, including a pretty red geometric print and a blue floral print. And so ended my diaper bag odyssey.

What would YOU keep in a paci pod?
There is an adage that "wisdom cannot be told." Some things you have to learn yourself. Well, you have to become a mom to really understand the nature of the (diaper bag) beast. It took me a few months but one day, I just knew. A diaper bag isn't about identity, surrender, or mom jeans. It's about being smart when you go out with a baby! Thus, you would be wise to choose something that can serve your needs best—whatever those may be. Because ultimately what the perfect diaper bag will do is become invisible. I take my daughter to the park, to the library, grocery shopping, pediatrician visits, or to browse the bookstore. We travel together. She is seeing the world for the first time and I get to see her seeing it for the first time. Our bag? It just carries stuff.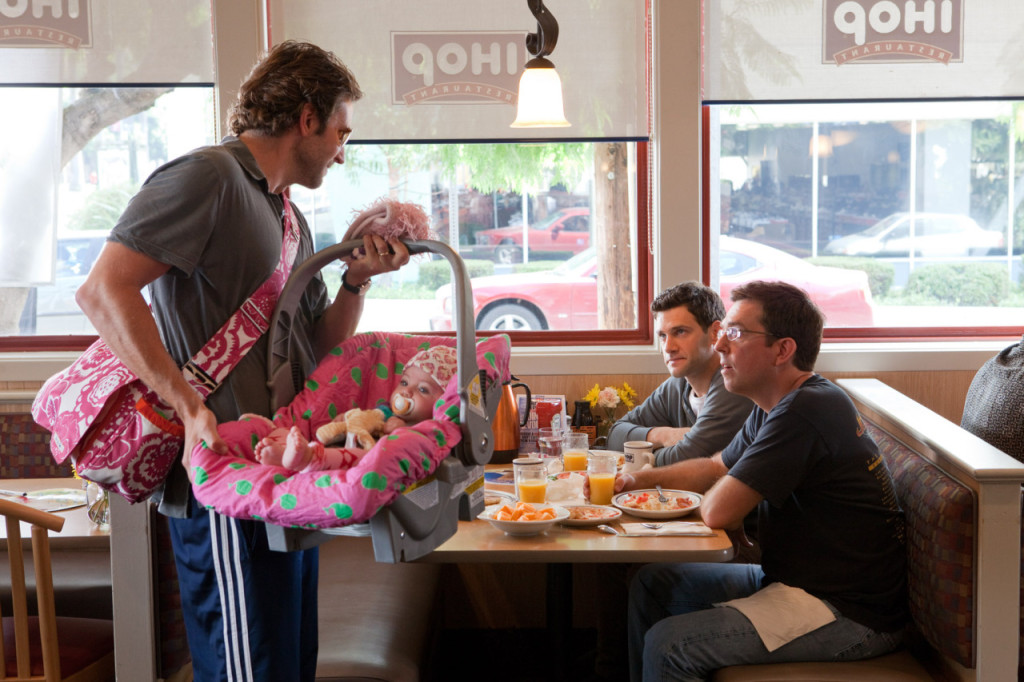 This is what my husband looks like these days. I love a man with a baby. Ju-Ju-Be is Hangover approved.
So mamas, what do you think of this bag? Am I the last person to find out about Ju-Ju-Be? Do you love your diaper bag? Are you a single woman who doesn't even want to think about diaper bags—I totally understand—run away! Let me know.