By Jay 2 Comments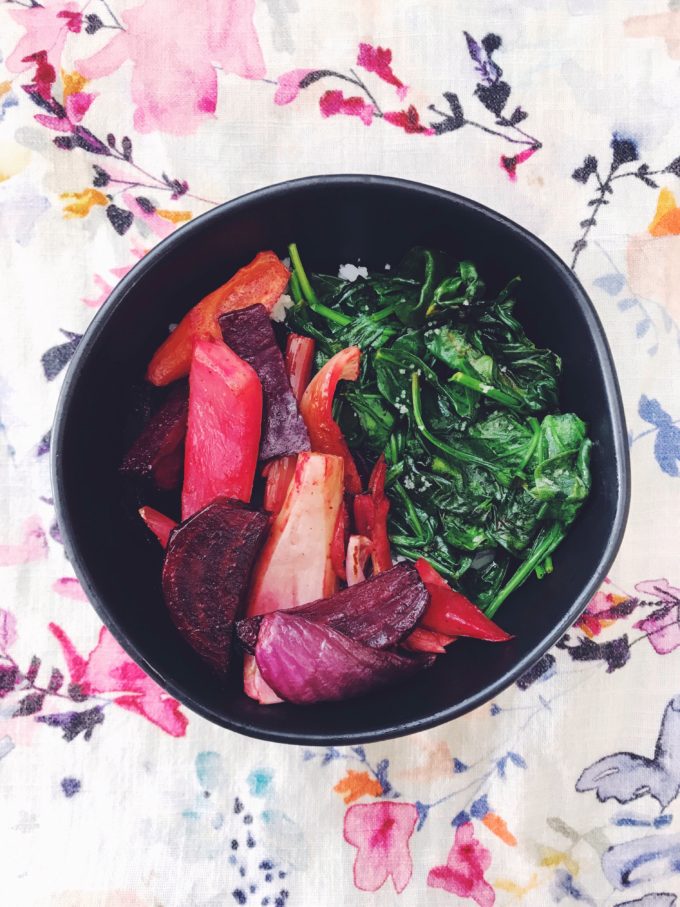 There are days that I crave veggie bowls. They make a great, easy lunch—especially if you've roasted your vegetables on the weekend and have them ready to go. I love winter vegetables! The combination of carrots, fennel, beets, and red onion is lovely. For my bowl, I made a batch of rice and added sauteed spinach. I squeezed lemon juice and sprinkled sea salt over everything. It was very satisfying on a chilly afternoon.
This feels like the kind of bowl you'd enjoy on some hilltop cottage overlooking a wintry sea.
I'm always trying to eat more vegetables. It makes a lot of sense to me to eat a plant-based diet. They're packed with healthy nutrients. I've also noticed that when my meals are geared toward vegetables, my grocery bill is smaller. While I'm not quite willing to stop eating meat entirely, I do like maximizing veggies.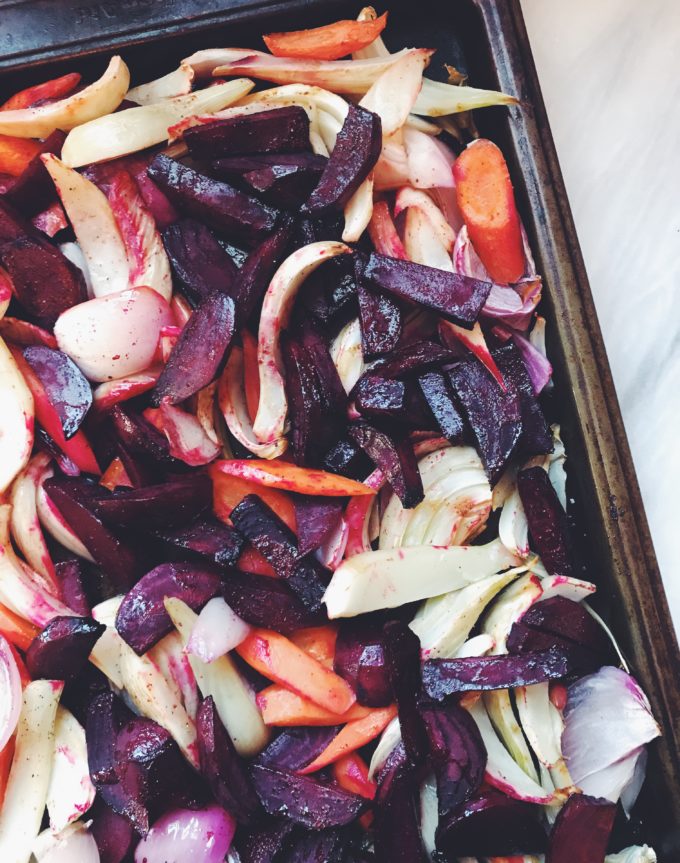 I roasted the veggies for about 30 min @ 350 but next time I think I'll up that to about 375. I used two roasting pans. It can be smart to separate your beets into one of them since they're so dense and might need a little extra time.  I sprinkled the vegetables with olive oil, lemon juice, coriander, and paprika.
Since I'm still in my wintry mood, I'll leave you with this poem:
When the Winter Chrysanthemums Go
by Matsuo Bashō
When the winter chrysanthemums go,
there's nothing to write about
but radishes.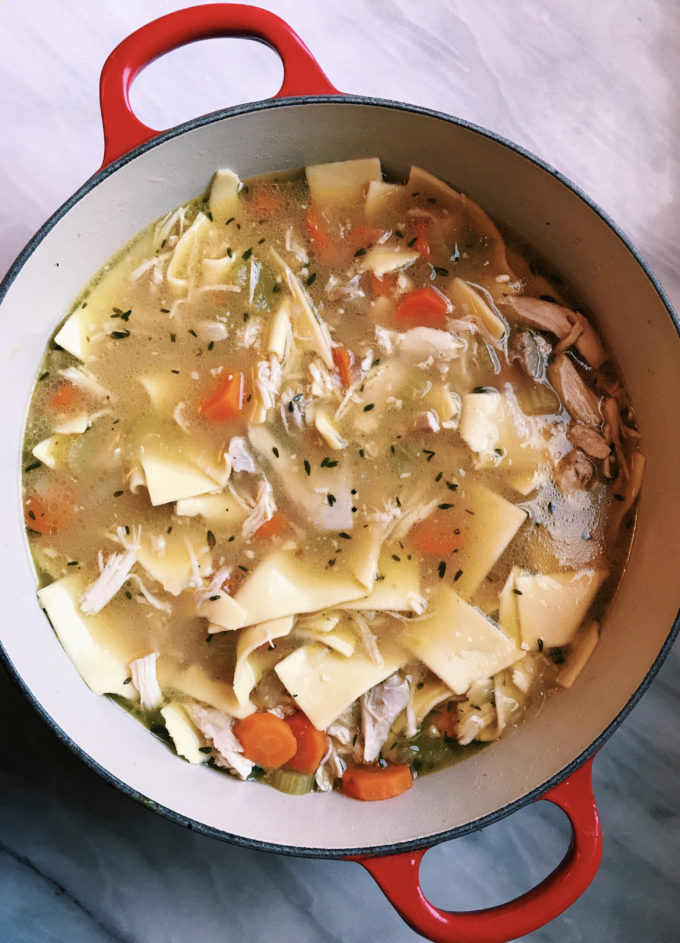 When I wake up to rainy, cold days I think, "It's soup weather!"
This was the rainiest week we've had in California so I made a big pot of chicken noodle soup. It's the perfect dinner at home on a cold night. If your family is small, just cool and freeze half—you'll thank yourself the next time anyone in the fam gets a cold! There are plenty of recipes out there using whole chickens or bone-in chicken but I simplify mine even more. If you add a little jarred bouillon, you can amp up the flavor and skip the extra work/cook time.
Yield: 10 servings
Prep and cook time: 10 min, 45-50 min
You will need:
2 1/2 pounds boneless skinless chicken thighs
1 tbsp olive oil
2 cartons of chicken broth (32 oz each; my favorite brand is Pacific)
1 onion, diced
1 garlic clove, minced
5 medium carrots, chopped
4 celery ribs, chopped
1 tsp fresh thyme
8 oz egg noodles
2 bay leaves
1 tbsp lemon juice
Salt/pepper to taste
1-2 tsp Better than Bouillon Chicken Base (optional)
1 tbsp flat leaf parsley
Instructions:
In a 6-quart stockpot, heat the olive oil and cook the onions until soft (about 5 minutes.) Add your garlic and stir/cook for additional 1 minute.
Add the chicken broth and bring to a boil.
Once boiling, add the chicken thighs, carrots, celery, thyme, and bay leaves. Reduce heat to simmer and cook covered for about 25-30 minutes.
Once chicken is cooked, use tongs to pull it out and set aside to cool.
Remove pot from heat and add the egg noodles. Cover with lid and let stand for about 20 minutes.
Once chicken cools down, shred it and add to pot once the egg noodles have cooked.
Adjust taste with salt (starting with 1 tsp), pepper, lemon juice, and chicken base.
Garnish with parsley and serve!
A bowl of this, a blanket throw, and some episodes of The Crown sound like a perfect evening to me. Wishing you warm evenings in throughout the rest of this chilly season!
Recipe adapted from Taste of Home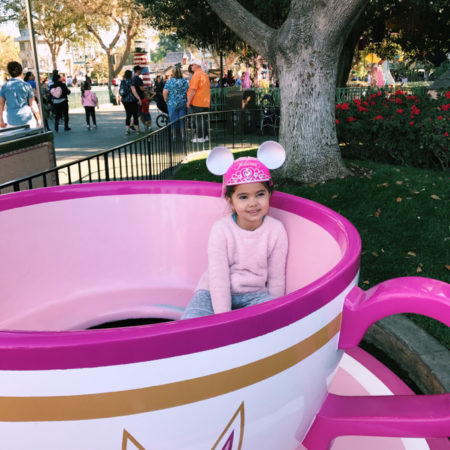 Julia is 5 which I think is the perfect age for Disneyland. She loves the princesses and was excited about exploring the castle. The last time we took her to Disneyland, she was really little. This time was definitely MAGICAL and one she'll remember. I bought us 2-day passes to enjoy the parks during the…