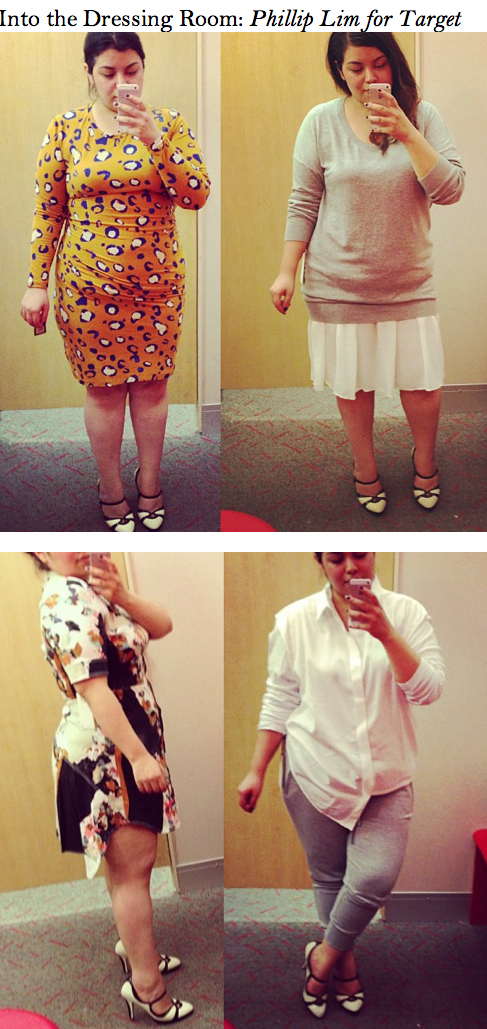 Some pictures of Phillip Lim for Target on me!
So last night I asked my husband if we needed anything from Target. He said "yea maybe diapers" to which I responded, "WELL OK GUESS I HAVE TO GO THEN…" I was excited driving up, seeing the giant red eye of Target beckoning me closer. I walked in and grabbed several items left in my size.
Animal Print Dress: The stretchiest of the bunch. A little reminiscent of the man from Bedrock, n'est-ce pas? Cute for anyone who wants a playful bodycon dress.
Sweater-Chiffon Dress: My favorite of the group, this was soft and so pretty. The ruffle bottom is super sheer. If you wear it all the way down it looks really "fashiony" and reminds me of the Phillip Lim aesthetic more than any other piece in the collection, besides maybe the navy suit. I pulled mine up for a more risque feel.
Floral Zip Dress: This was a lovely abstract floral zip dress that made me feel a bit like a futuristic flight attendant, with a full zip front and thick stretchy fabric. Very pretty and the side profile of the dress was a standout.
Grey Sweat Pant + Menswear Tux: If you are looking for a chic sweat pant, this may be it. What makes this different from other sweats: thicker fabric, nice banded cuff, zip pockets. You might look effortless and French in these, but they need to be dressed up. Tread carefully.
Overall Comment on Sizing: While a few things were slightly oversized, the chiffon (in the blouses, some of the dresses) will be limiting. The dresses were stretchy, some more than others. I didn't get a chance to try the navy suit and that will haunt my fashion dreams forever!
This post is dedicated to the plus size girls (like me!) that shimmy into straight sizes from time to time. Sometimes the fit of a garment changes on a plus size woman: an oversized dress might become form fitting. Sometimes there is no change: bodycon is bodycon is bodycon.
I snapped these pics on my phone and shared them on my instagram (follow me! @pinklip). Did you shop Phillip Lim for Target? Tell me your favorite piece from this collection!